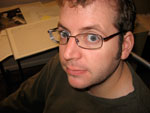 Composer/saxophonist, Gregory Cornelius is a graduate of Bowling Green State University (Ohio) and Truman State University (Kirksville, MO) who creates a broad spectrum of sound art bridging both the acoustic and electroacoustic traditions, color-sound relationships, the computer as a flexible electroacoustic instrument, and the challenges associated with combining acoustic instruments with electroacoustic music.
His music has been presented at various events including the World Saxophone Congress, the Society for Electro-Acoustic Music in the United States National Conference, the North American Saxophone Alliance National Conference, AMP New Music Series, and the Cleveland Chamber Symphony's "Young and Emerging Composers" series. This spring, Earth and Green was awarded a prize in section I of the Bourges International Electroacoustic Music Competition.
Currently, Gregory is pursuing a doctoral degree in music composition at the University of Texas at Austin where he studies with Russell Pinkston and serves as the Electronic Music Studios Facilities and Technology Coordinator.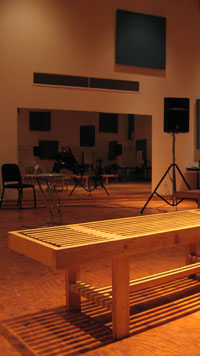 Canadian cellist Leanne Zacharias' diverse musical life has been compared to extreme sport. An apprentice with Montreal's Nouvel Ensemble Moderne, artist-in-residence at the Banff Centre for Arts, section member of the Houston Symphony Orchestra, soloist with Tafelmusik Baroque Orchestra, director of new music for community radio + finalist in the Coleman Chamber Music Competition, she also leads canoe trips + volunteers for the Sierra Club.
Sharing stages with the likes of Edgar Meyer, the Miro Quartet, the Weakerthans + the Mountain Goats, she composes, improvises + has premiered works by Arvo Part + Krzysztof Penderecki among many others. She collaborates with songwriters, architects, dancers, painters, poets, video + performance artists. With longtime cohort Christine Fellows she has produced original work for CBC Radio, TV + choreographers Lesandra Dodson + Susie Burpee.
Armed with a Masters degree from Rice University as a student of Desmond Hoebig, Leanne landed in Austin to pursue an experimental doctoral program at the University of Texas. Recipient of the Roberts Endowed Presidential Scholarship, she works as an adjudicator, teacher, + chamber music coach. She was composition chair of the 2007 Sight+Sound musicology conference, is a member of the Movable Feast performance collective, + curates the performance project Music for Spaces. She recently helped manage the installation Pink Portland + will produce collaborative shows in Texas, England + Germany's Akademie Schloss Solitude later this year.